A survey indicated that 3,000 at-risk youth in the city of Oakland have a mentor.  However, counting youth in foster care, those re-entering from juvenile justice, under performing in school, and/or high absenteeism at school, there are more than 15,000 children who would benefit from a mentor.
Our Volunteer Management System (VMS) revolutionizes school district volunteerism.  It provides school districts with an efficient and effective system that assures student safety.  Academic achievement is enhanced when volunteers and student-serving partners are connected with students.
VMS can
Provide easy access for volunteer registration
Manage background clearances
Assign volunteers to activities
Send automated notices of key requirements
Provide a volunteer dashboard
Collect student data for grades, attendance, and disciplinary actions
The primary metrics we track are:
Grade Point Average – participation and interest in learning almost always results in better grades.  This is listed last as depending on the accumulation of years of the poor attendance in the classroom; academic success becomes harder to overcome as the students fall behind with their grade level.
School Attendance – being present in class is the first step to learning
Disciplinary Action – suspensions, conflicts, etc. are signs of underlining, often unrelated, problems
Here are few samples of mentee outcomes at the end of several school reporting periods. Mentors are being trained to monitor this data, encourage mentees to do well in school, and finding resources (such as tutors and/or counseling).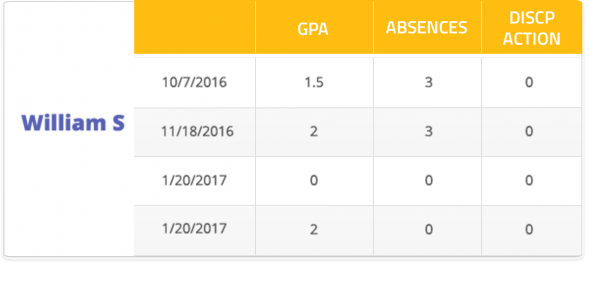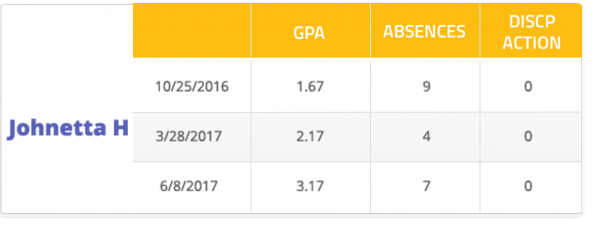 Other areas of impact that are harder to track are:
Learning of new skills
Committing crimes
Being a victim of crime
Number of arrests
Prison time
Gang involvement
Drug usage, substance abuse
Homelessness
COMING SOON. Integrated badge system for on-campus security
Benefits to the school
Saves districts money when we handle background clearances
Protects your students and reduces your liability risk
Increases the number of volunteers. Districts have experienced an immediate 4-5x increase.
Easy access to reports and manage thousands of volunteers without the need to hire more staff
Accommodates parents desire (in California a right by law) to participate
VMS
Demo Videos
Businesses care about the prosperity and safety of the local communities they operate in and the long-term prospect of a qualified workforce. Providing mentors for at-risk youth impact both desires.
Initiatives your company can launch to foster mentoring
Benefits to Your Company
Enhances your corporate image by helping the local community
Helps groom a local workforce for your future
Increases employee involvement with social responsibility initiatives
Decrease the risk (and cost) of crime to your property and employees
Benefits to your employees (and your company)
An additional employee benefit (increased loyalty)
Promotes mentoring skills (skills transferable to on-the-job)
Increases sense of meaningful work (more productive employees)
As a nonprofit, we know being passionate about helping at-risk youth is not enough.  Programs require resources.  We have learned a lot since 1992, one vital lesson is pooling resources and skills quickly scale the number of lives we can touch. Are you one of the many youth-serving agencies that could add value by providing mentors?  If only you had enough resources?  Let's work together to reach more at-risk youth.
Benefits include:
Economies of scale
Latest resources and funding
Technical assistance
Training opportunities for staff and mentors
Increased public awareness
Power for advocacy
Learning from others
With our Volunteer Management System (VMS) we are able to serve as the coordinating backbone for multi-agency collaborations.
We can provide centralize services such as:
Mentor recruitment
Background clearances
Training for mentors and staff
Mentoring case management
Data collection
Technical support
Joint-funding opportunities
Individual vs. Collaborative Cost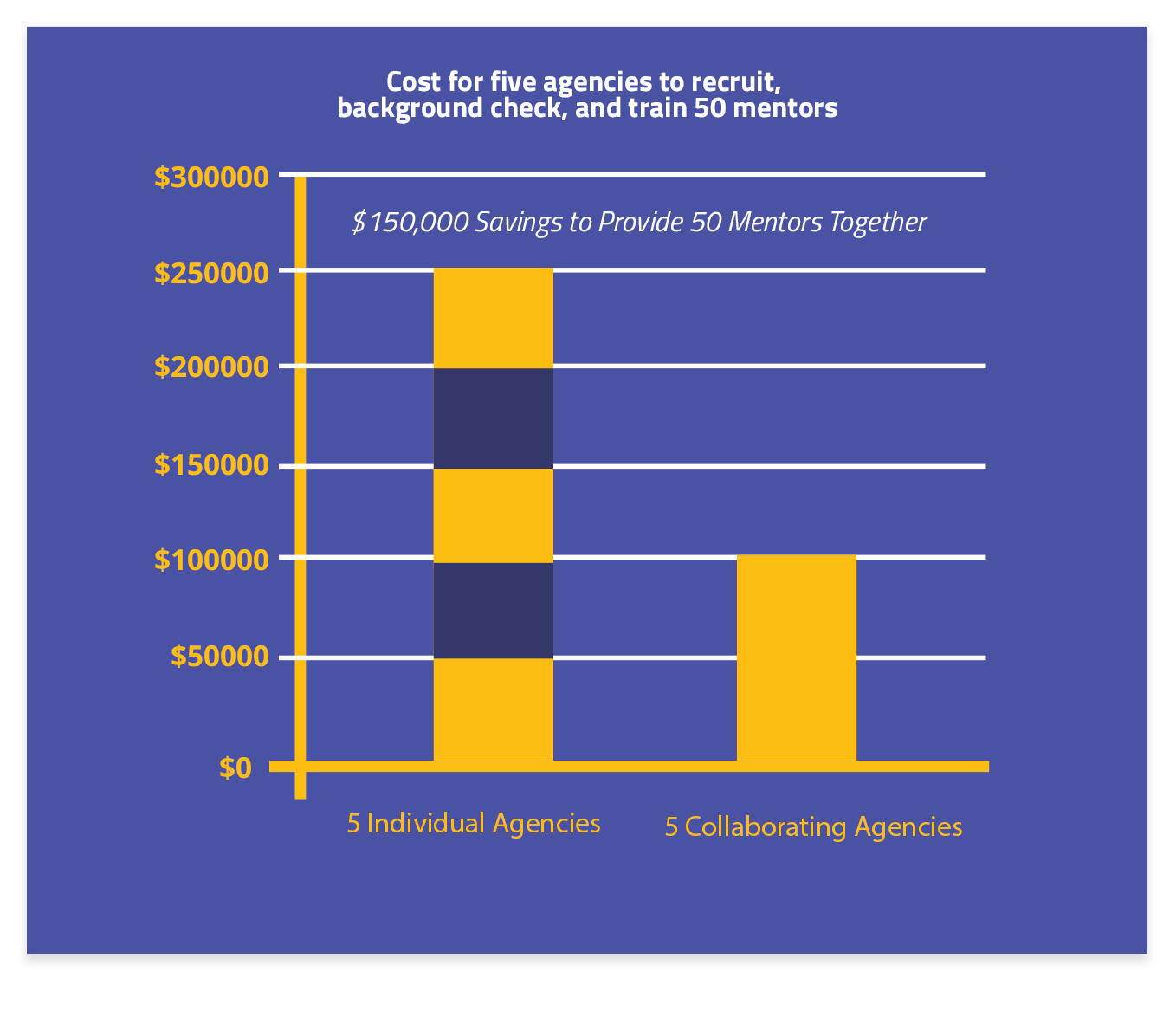 Read More on our partnership in progress for foster youth. 
Coalitions are much more beneficial to programs than anyone realizes.  We can help programs be more efficient and effective.  And, we can help them keep their focus on what their mission is, all the while prioritizing the safety of children.
 – Lorey Keele, Northcoast Mentor Council